Junior Member
Join Date: Feb 2014
Location: Nebraska
Posts: 1
Lite up whip
---
My son has a 2008 Polaris outlaw 90. The headlights are on whenever the quad is running. He's been begging me for a lite up whip for it. We ride a couple jamborees every year and he sees them on other quads and loves them. I don't know if the system would run the headlights and a whip too. I was looking at fiber optic. I would definitely run an on/off switch to it, but don't want to burn up any electronics either. I tried to find numbers to tell me if something like that would draw too much or how much amps I had to be able to use. I don't know where to find the info I need. Any help would be appreciated. Thanks.
Senior Member
Join Date: Aug 2014
Location: Springfield Oregon
Posts: 250
The whips use VERY little draw. I'm sure it'd be fine. I have one I'm going to install when I get time.
Highly recommend these folks. Know them personally. I'm sure they could answer your questions.
http://www.whipitlightrods.com/?noredirect
POTW Moderator
Join Date: May 2012
Location: Northern Colorado
Posts: 7,626
I got mine from GTP Offroad. Vendor on here who can give you a discount and free shipping. They are awesome!
http://goodtimesproducts.com/product.php?id_product=44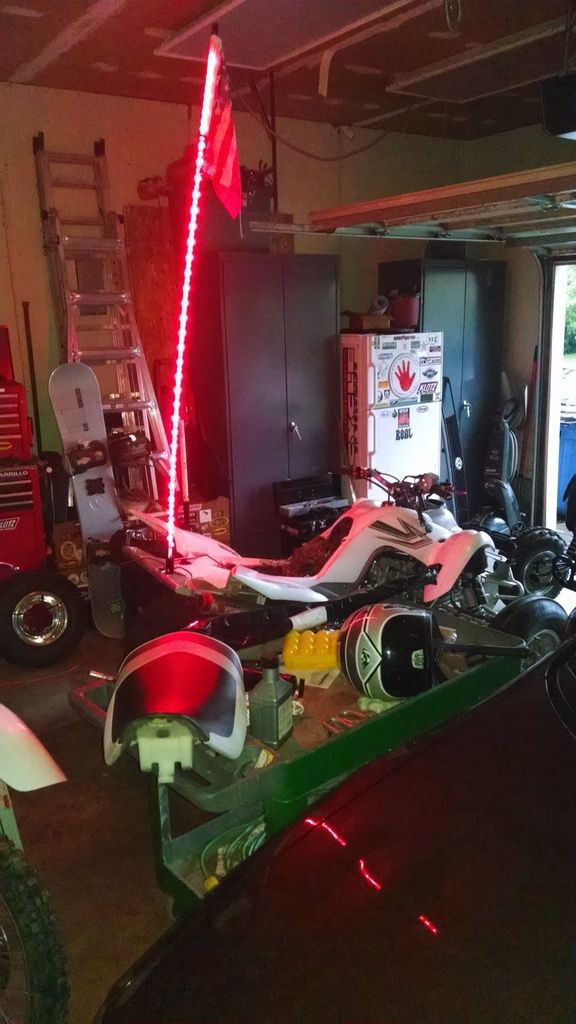 ---
[U]2006 raptor 700

DMC Force 4's, FCI W/box, Dynatek Fusion,
CP 11:1 piston, BaMotorsports porting, HC3
RacersEdge +3TB
YFZ 450 fronts & reworked rear by JOGACA
Trailtech 1 1/8 xbar w/vapor dash & Vapor installed
ODI Rogue grips & ASV pro pack levers
Fastway steering stabilizer
68HP 49TQ

PM me if you need service manuals
There are many different whips on the market. Most run Chinese parts, the cheapest are made in China. These tend to have issues with the LED burning out.

A basic whip will draw 3-5 amps for a 6'. I run mine off a tap in the tail light wire so it only turns on with the headlights. They all have plugs also so you can plug it in only when you want it on. It's generally not a good idea to run it all day. I change mine out with the Tribal whip mounts it's really easy.

We sell a ton for the Tribal whips and they are very good quality made in USA. 1 year warranty. They start at $90 for 6'.
---
08 Raptor 700r - March 2013 ROTM
DMC Force 4 Duals - FCI Intake - PC5/Autotune - Stage 3 Hotcam - 12:1 CP Piston - +3 Cuervo TB - Ported head - Kibblewhite springs
Elka Stage 4 - Houser +2.25" MX LT MGC A-Arms - Lone Star Axle (+6)
Pro Armor Skid Plate - Pro Armor Nerf Bars
GTP Beadlock Wheels - Skat~Trak 9 paddle
ProTaper Contour Bars - Trail Tech Bar clamps - ODI grips - Fastway Steering stabilizer - Vapor
My Videos:
http://www.youtube.com/user/DJraprider?feature=guide