Sent from my iPhone using Tapatalk
My new 700 SE.
---
2015 Yamaha Raptor 700SE
-Dynojet PC5
-Yoshimura RS-2 slip-on exhaust
-GYTR intake kit
-EHS airbox lid
-Fasst Flex handlebars
-Rox anti-vibe risers
Hello everyone. Guess who's not dead!!! Lol.

It's been a while but here are some updated pics of 2004 from earlier today.
---
2004 719
11:1 CP piston
WK ported head
CT Pipe/jets
Stg 2 Hotcam
Proflow foam filter and Outerwear
12/39 sidewinder titanium sprockets and smart chain
Barnett clutch, hinson basket
+4 axle, +2 LSR arms,
Jogaca Custom YFZ450 front shocks
Adjustable rear link
Renthal bars
Big F'in TEETH!

55hp, 44lb/ft
Junior Member
Join Date: Oct 2015
Posts: 8
Ignition Switch Relocation to Reverse Location
SpiderX Graphics Kit
Alba Racing +2 Front A-Arms
+2 Front Spacers
Tusk +2 Rear Axle
+2 Rear Spacers
Tusk Stainless Steel Typhoon Brake Rotor
Black "AC Racing" Front Bumper
Fox Float 3 Front Shocks with Evol Chamber
Hot Cams Stage 2 Cams
Hot cams 727cc +5mm Stoker Kit
ProTaper Contour FatteBar Handlebar
ASV Shorty Red Levers
Scott HandleBar Grips
PowerMadd Black HandGuards
PRM Rear Grab Bar
Alba Racing Blue/Chrome Fuel Cap
LED HID Head light kit
Rear View Mirrors
Dynojet Power Commander 5 Fuel & Ignition Controller
Dynojet Quick Shifter
Dynojet AutoTune
Dr D Reverse Lever
G-Plus Red Radiator Hoses
Tusk Nerf bars
Renthal R1 Gold Chain
Renthal 40T Silver Rear Sprocket
14T Front Cog
11:1 Wiseco Pistons
Kniblewhite Black Diamond Intake and Exhaust Valves
Kniblewhite Valve Springs
Motul 300v Engine Oil
Engine Ice High Performance Coolant
K&N Air Filter
Pro Design Pro Flow Blue Pre Air Filter Bag
K&N Oil Filter
ARP-KMS Cylinder to Head Stud Kit
Maxxis RAZR Front and Rear Tires
DMC Black Dual Force 4 Exhausts
Sixity A-Arm Skid Plates
Pro-Armor Swing Arm Skid Plate
Tusk full Chassis Skid Plate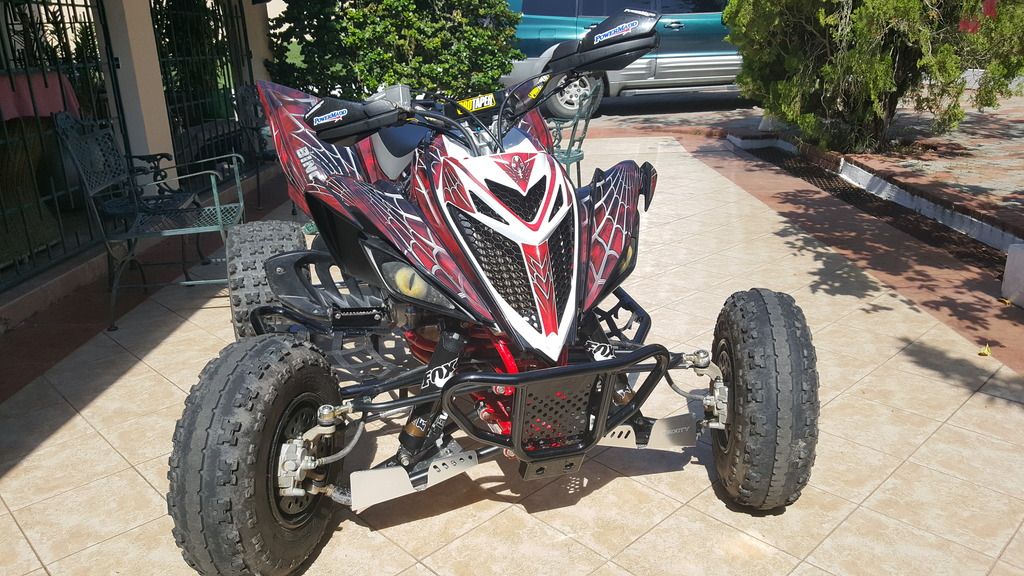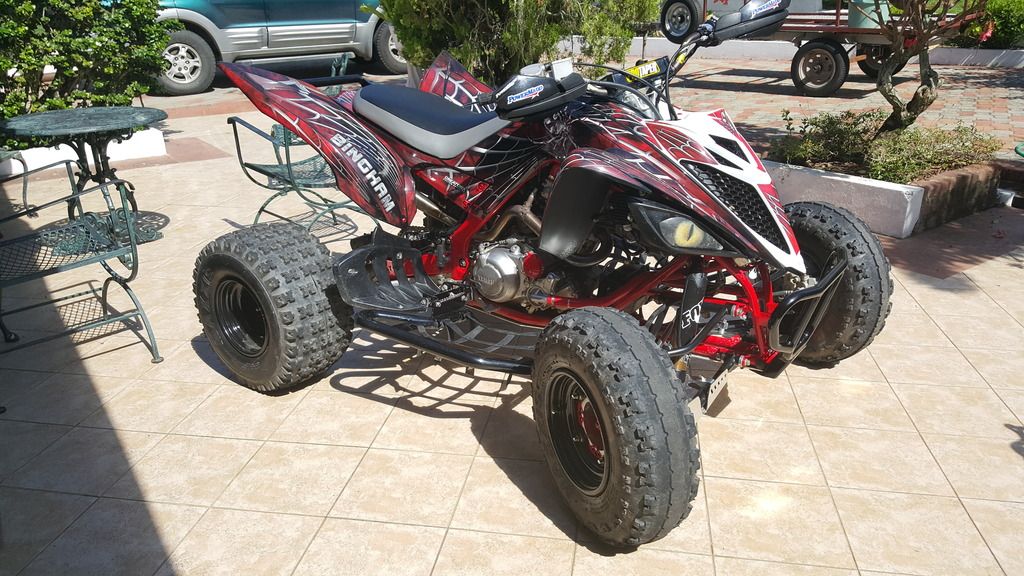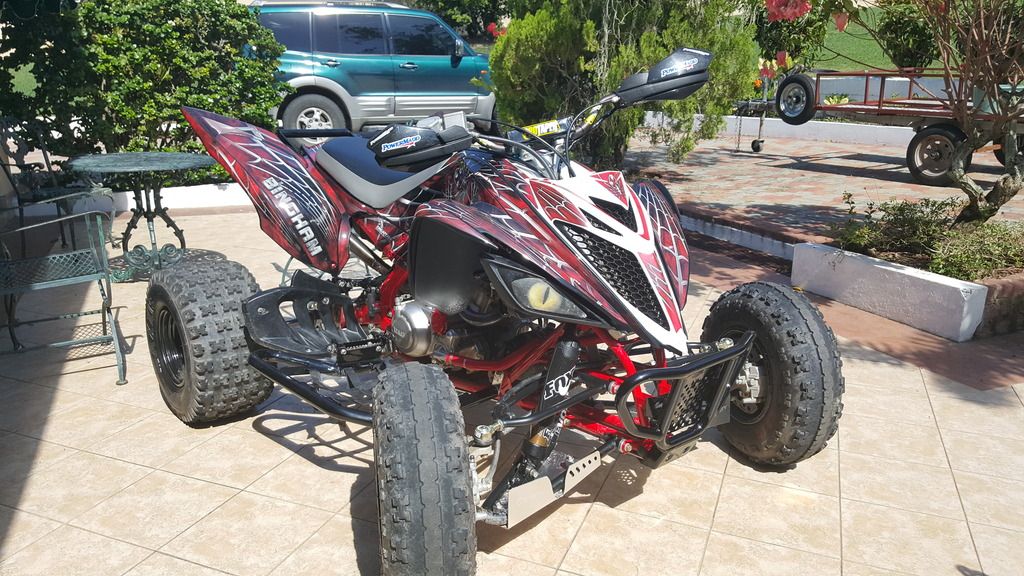 Not a show bike at all, but it's the best it has looked since I bought it. About 6 years ago I Hit a 6x6 with it at around 60mph.... bent everything, been replacing parts 1 at a time since..... I think all I need now is an axle. and maybe another set of rims..... Never buy used rims. wish I had the pics right after the wreck, but I don't. started removing damaged parts.
---
2004 YZ 250
Pro circuit platinum pipe, R304. Wiseco piston, boyesen reeds

2002 Raptor 660
Curtis Sparks X6, Foam Pro Flow Kit,
Alba Needles, Airbox lid removed, 160L-165R mikuni mains,
25 pilots, fuel screws 2 1/8 out, flipped rear link, clear tube mod
---
Last edited by raptor660r101; 02-24-2016 at

12:11 AM

.