Lifetime VIP
Join Date: Jul 2012
Posts: 62
ZX14 Raptor, it lives but I got some questions for any Busa drivers out there.
---
I recently made the plunge and did a build. I didn't do it myself as there were too many questions that i failed to have the answers for. I had a miscommunication with my builder and the quad ended up not as I hoped but will do for my purposes. I wanted a duner and I had hoped he would build a new tank and wrap the frame around the engine, thus keeping it low profile yet with clearance. I was late in conveying this to him and he had already lengthened the steering stem 5 inch and raised the rest. Oh well he did his best to accommodate me and it is dam fun. I am still working out the bugs and little issues here and there.
My question to the busa riders is paddles?? I am running the stock front 17 sprocket and a back 60 which gives me the same ratio as what some of the R1 raptors are running with a 15/53 sprocket combo. Mine seems geared low though where a larger tire would really help in both lengthening my gears out and helping float the weight of the big motor, and man is it big in size and weight. It makes the R1 motors look like stock raptor motors in comparison. My question comes as my builder recommended a 25 or 26" paddle and so did Dave at Fullerton Sand Sports, whose opinion I do respect. I am looking at the 26" sand blasters in a 10" rim with the 16 paddle #1's (7/8" also known as the short paddle) with no comp cut. I have run the 26" blasters #1 with comp cut on my 800 renegade and they rock. In the 300 ft they have ran very well in comparison to any of the skat trak combinations that have raced me. The blasters don't have quite as aggressive paddle so they throw back instead of up like many of the skat trak extremes I've seen and been sprayed by.
The R1 riders here have stated they tried the skat trak in the 25 x 11 11 paddle or 14 paddles and they were too much and bogged their machines off the start. It appears many of the R1 riders have had luck with the skat trak extremes in the 21-10 11 paddle. I have looked at the torque curve differences between the R1 and the zx14 and the zx has alot more torque, around 60 for the R1 at 6 grand and around 90 for the zx at 6 grand. My builder felt I could launch in 2nd gear with the 25 or 26" paddles and after doing some 2nd gear launches on dirt I believe him. I plan on doing some 300 ft drags but no wheely bars, nothing formal just having fun with others in the dunes. If anyone out there with a busa motor, non-turbo can chime in it will help with my decision.
Hi to everyone, I just signed on as a lifetime member, so I guess you guys and gals will be stuck with me for a while. And before the onslaught of "show me some pics" come I will post them just as soon I get them downloaded to my computer and figure out how to get them from there to this site.
Senior Member
Join Date: Mar 2011
Posts: 255
well i cant help you much. but i can say that i ran a big tire on my r1 raptor and it was no fun. way to much tire. i was even launching at 7k and it would fall on its face bad off the line. i was running a taller hauler 25 tall. 14 paddle i switched to a 22 10 paddle hauler and my bike really came alive. it was night and day difference. when i was in reno at sand mountain there was a banshee with a gsxr motor on 8 lbs of boost he said it made 225 hp and he was running a 12 hauler and it hooked good and it hauled ass. if you want these tires i have let me know.
---
Bone stock for now
Lifetime VIP
Join Date: Jul 2012
Posts: 62
Well i broke down and ordered the blaster 26 10 16 paddles. They are the short paddles wih no comp cut so there will be more rubber and durable. They work so well on my renegade that i had to try. If they hook up too much i can always cut or shave them. I know I need more tire as it seems geared so low right now with the 20's on it. If it turns out to be a mistake it won't be my first or even my first this week. I run the same paddle on my rzr 900 and it loves them. In fact we won a trophy in the stock side by side 300 ft drags a couple months ago, it was a small event, no big deal but still dam fun. i will post hiw they work out.
I would love to post some pics but can't figure out how. The button on this site i click asks for a url address. how do i get them from "my pictures" to here. Any help out there on his one
Senior Member
Join Date: Mar 2011
Posts: 255
Its easy. jusy use something like photobucket to load your pictures. load your pictures then copy the direct link URL and post it here in the picture box here.
---
Bone stock for now
with all that hp and paddle,your gonna need to baby that tranny in that thing'' thats your weaklink
hope it runs hard for ya
Lifetime VIP
Join Date: Jul 2012
Posts: 62
I was told the trannys in the zx14 were very strong, better than the busa's. My builder ran a turbo zx14 motor on NOS that dynoed 314 to the rear wheels he claimed, with a stock tranny. He used the much larger PRO version of the blasters with another inch of width and additional height in the #2 paddle. The tranny is what I am least worried about.
Lifetime VIP
Join Date: Jul 2012
Posts: 62
I think that the weight on my unit is so far forward that it may be more difficult to get it to hook up than on the lightweight R1 builds. I don't feel I am getting much weight transfer to the rear, it just spins and spins and spins. Or I am completely wrong and will be doing moon launches every time, either way its gonna be fun.
Lifetime VIP
Join Date: Jul 2012
Posts: 62
Hopefully this pic will load.
Lifetime VIP
Join Date: Jul 2012
Posts: 62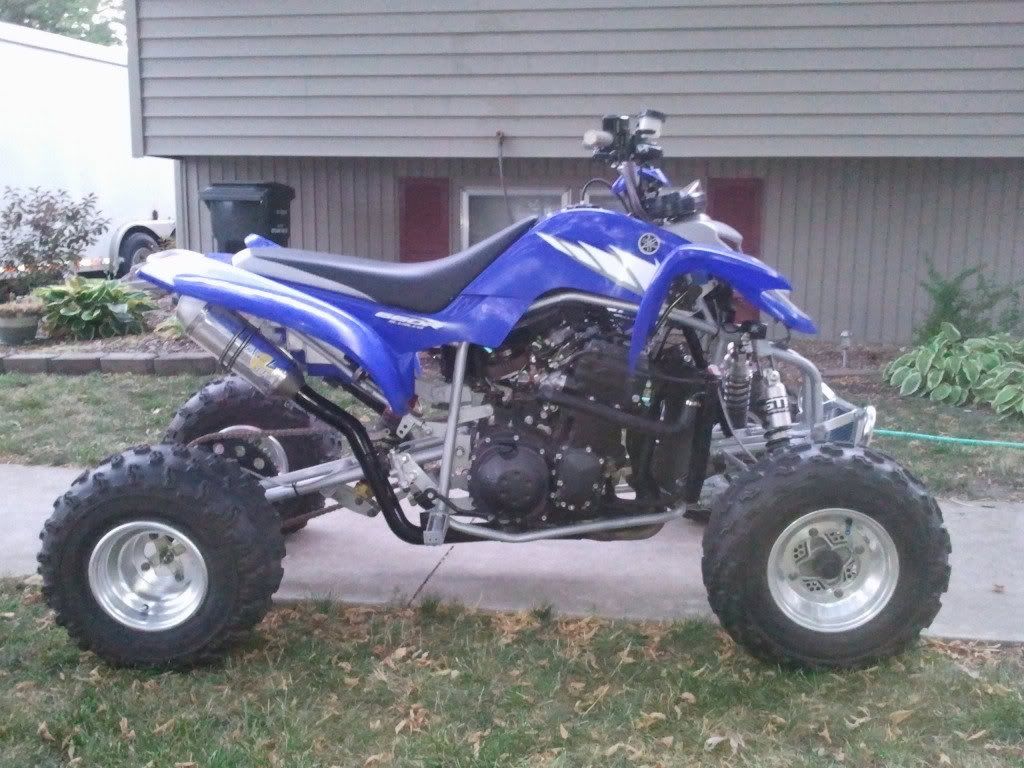 Now I think I got it.
Senior Member
Join Date: Mar 2011
Posts: 255
Quote:
Originally Posted by
flamefighter2012
View Post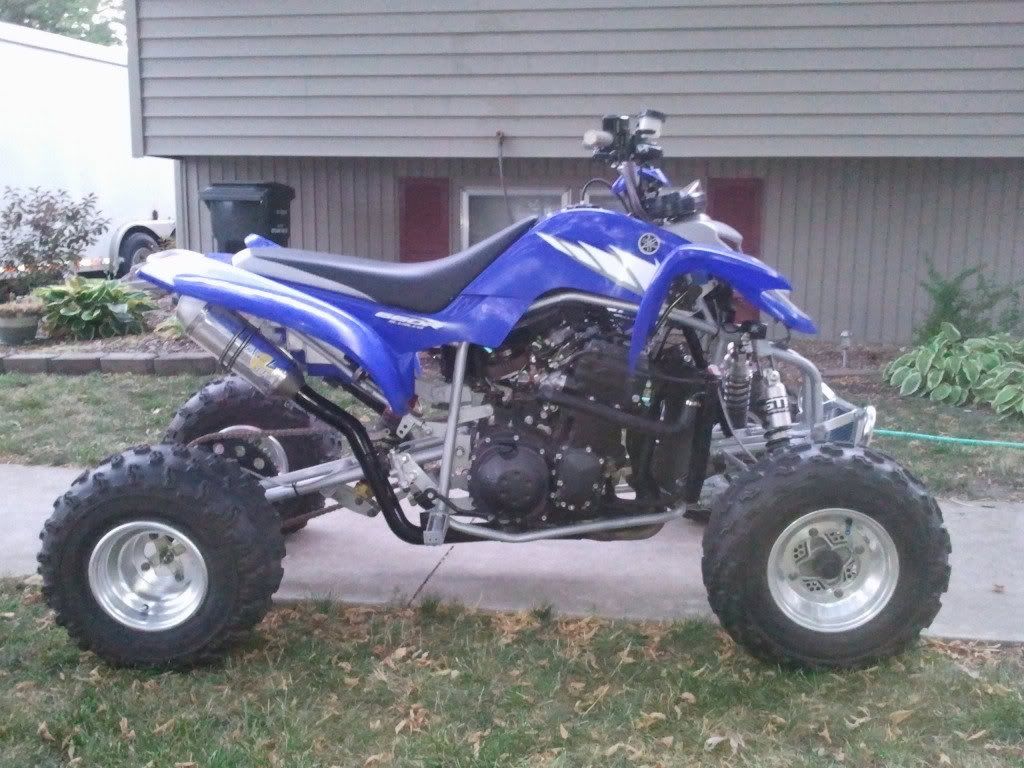 Now I think I got it.
nice. but what swinger are you using?
---
Bone stock for now