---
2005 660
686 11:1 wieseco
Coming soon to a planet near you!
K+N w/billet adapter
Full yoshi exhaust
Works triple rate remote res front shocks
Alba +2 a arms
+2 spacers on rear
Flipped link
Stainless brake lines
Asr tie rods
Alba intimidator bumper
Rox 3" risers
Motion pro cables
Me and my buddy's quad getting rrady for this weekend
Sent from my SCH-I545 using Tapatalk
Is that some kind of photo filter or do you live in cartoon land? I hope its the second one
---
2005 660
686 11:1 wieseco
Coming soon to a planet near you!
K+N w/billet adapter
Full yoshi exhaust
Works triple rate remote res front shocks
Alba +2 a arms
+2 spacers on rear
Flipped link
Stainless brake lines
Asr tie rods
Alba intimidator bumper
Rox 3" risers
Motion pro cables
thanks natasdaisy, i dunno what has been done to it. i bought it two years ago and have only had it out a handfull of times. bundy hill in april/may last year was my first trip, it did well then i brought it to silver lake for a annual camping trip with friends. i forgot to buy a park sticker and they didnt catch it until the second last day. then this fall we went up to bullgap and some trails up there. it did well.

what i do know is;
1. i found out it was low on oil, i topped it up and found the front sprocket seal was leaking. i changed it.
2. it looks like it was rolled by the previous (or A previous) owner, i adjusted the tie rods to make things straight for now but its a pain when i turn one way over the other.
the plastics have signs of the roll also. i heated up the plastics and re zip tied them.
3. i needed 2 rear tires when i bought it, the front tires i was able to use some slime and seal them.
4. the chain was loose, i tightened it
5. i just recently replaced the sprockets and chain and wheel bearings in the front with a friend.

i'm enjoying myself so far with it. its my first quad but i have ridden friends' before owning this one.
the fiancee says i should ride more because all it does is collect dust.

i also like your camo job.
I guess i'll post up my 01. After all these years and 2 heavily abusive previous owners, it doesn't look too bad once I cleaned and replaced everything. haha.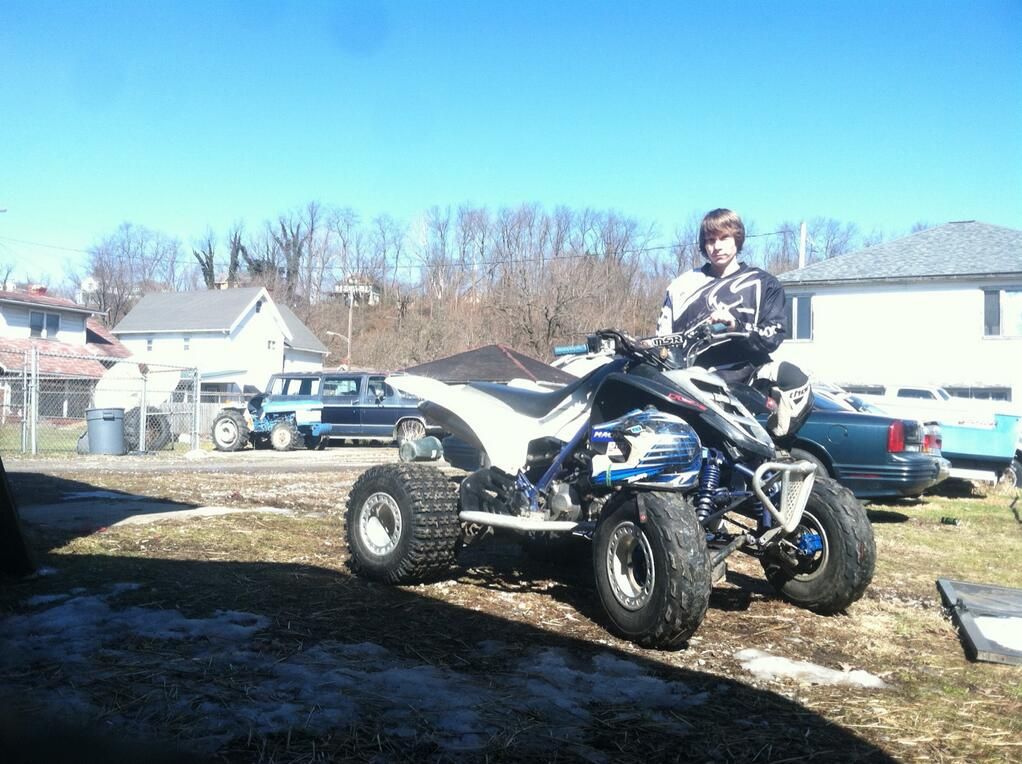 ---
1995 Jeep Grand Cherokee Limited 318 V8
2001 Yamaha Raptor 660
2001 Yamaha Raptor 660 motor, project, need frame
2001 Chevy Impala LS 3.8 supercharged
1999 Saturn SL2 1.9 Dual Cam I4
1995 Olds Cutlass Supreme SL 3.4 Dual Cam V6
2000 Honda Foreman 400
1992 Yamaha Blaster 200
1989 Honda Fourtrax 300
2003 Honda Sportrax 90
1987 Honda 70
Over half of those have nitrous.

NEWEST MEMBER:
1992 Honda 250X Bone Stock (rough tho)
My 02 660r. Just got it back from a friend who did the jets and tuned it for me. Still needs new back tires, new chain, rear shock adjustment, and some other small stuff. Had to deal with a small gasket leak the other day but bought the gasket to replace it completely. Love this thing and I can definitely see myself putting a lot more money into this thing to make it a work of art.
Heres some updated pics, New GYTR carbon fiber hood, Quadtech carbon fiber shrouds for Elkas, Curtis Sparks X6 bigcore with DEI header wrap. Also bought some Hiper tech3's with red rings but haven't mounted them yet. Hope everyone is having a awesome summer!!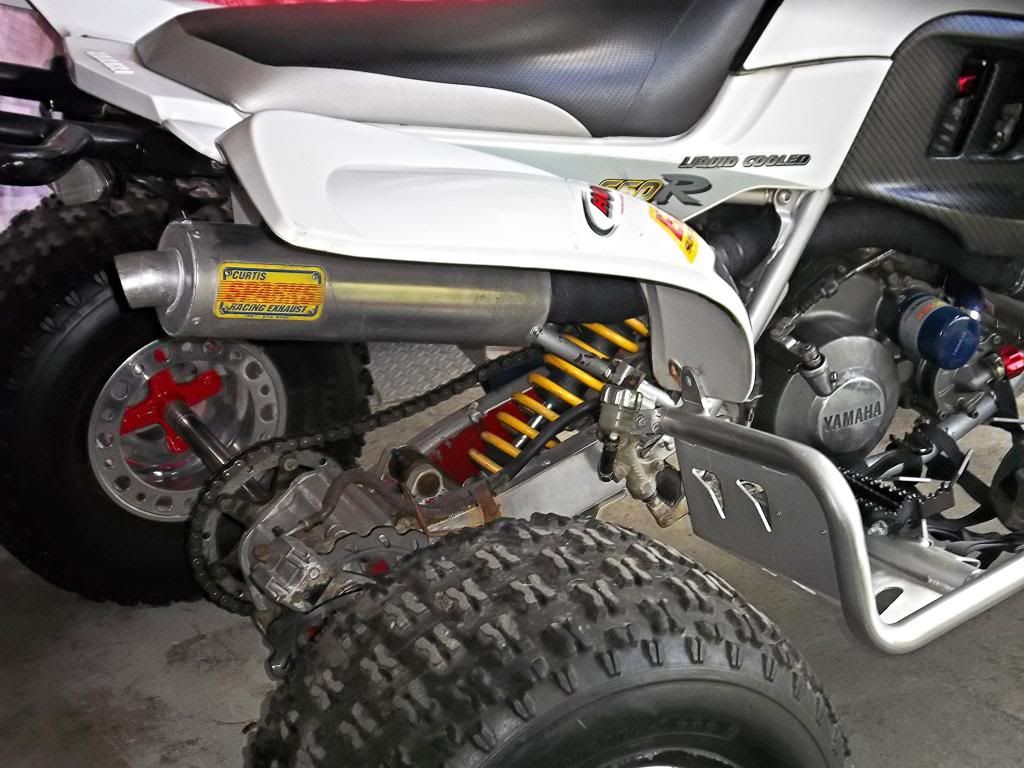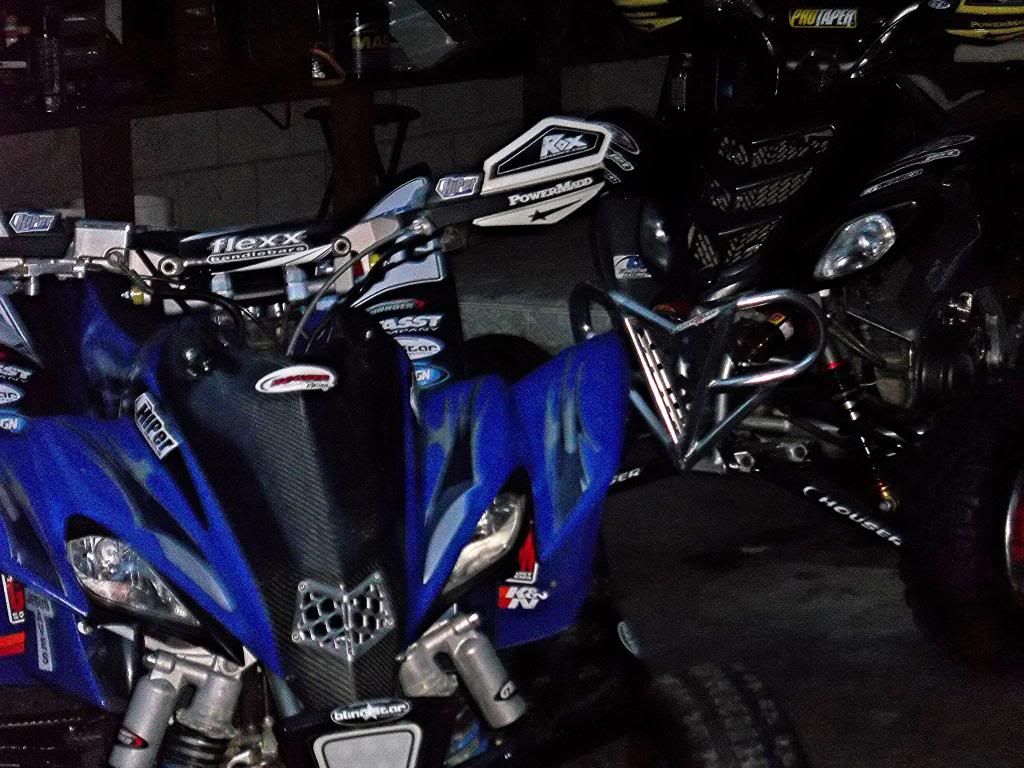 ---
Raptor 686, Wiseco 11:1, S1HC, Cometic, DynaFS, Sparks X6 bigcore, AMR coil, Dynojet, Hetrick Racing K/N kit, Hinson clutch kit, UM box, Pro Armor XC nerfs, LSR Axcalibur, Fasst Flexx bars, ASV's, Blingstar bumper, Houser Antivibe, Houser +2's Elka Stg3's. Regina, ODI, TMD, Quadtech,Hipers
350 Raptor,Hipers,Fasstco,Rath,FourWerx,GNCC's,GT Thunder
Senior Member
Join Date: Jun 2012
Location: Shenandoah Valley of Virginia
Posts: 3,459
Who said nobody made barker inframe pipes for the 660........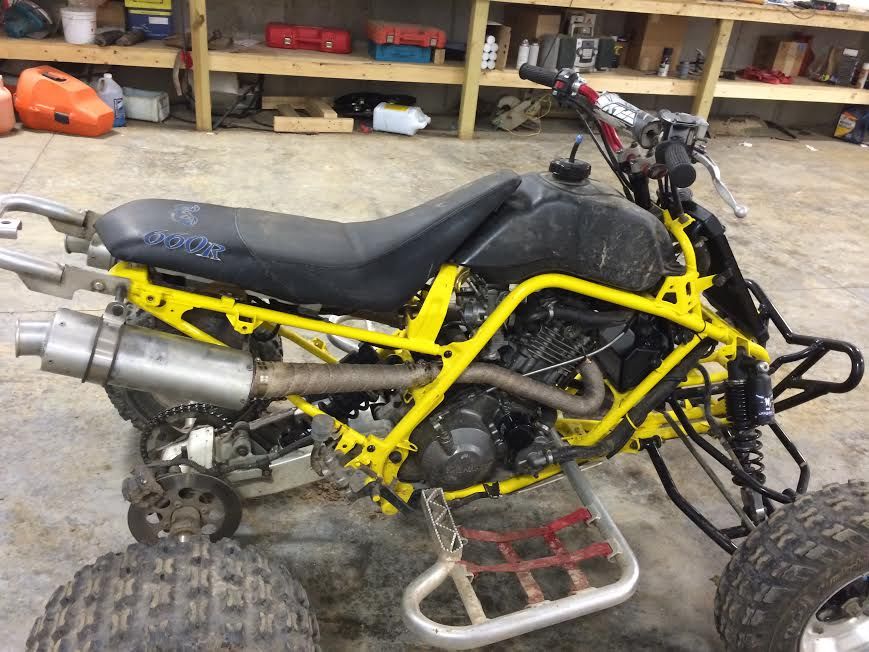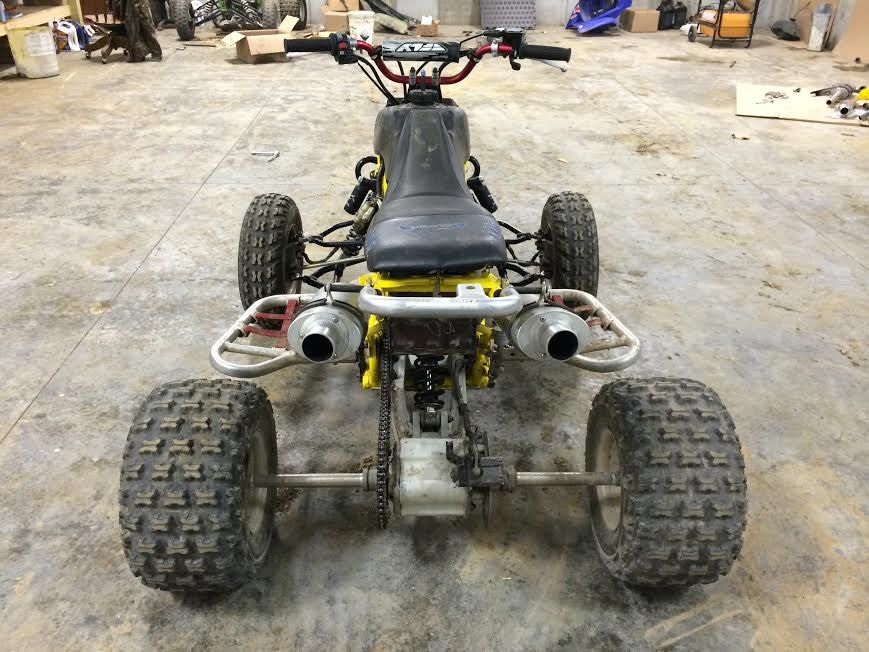 ok............well, slightly modified.... this is a old set of barkers i got from a member on here for my buddy. and the right side was inframe, so why not make the left side inframe as well?? and we turned the cans as well........ not done yet, but getting there....