Junior Member
Join Date: Jun 2017
Posts: 18
Is this a stock header?
---
I bought a modified raptor second hand, I assumed they replaced the whole exhaust system but I'm not totally sure. I'm just wondering if anyone can verify if this is the stock headers that got a slip on put on there? My raptor is an 04
Sent from my KIW-L24 using Tapatalk
Junior Member
Join Date: Jul 2018
Location: 525 Winton Rd N, 14610 Rochester, New York
Posts: 1
Performance exhaust headers have been a mainstay of thehotrod world for decades.
I dont think its OEM. The stock header has nuts welded on it to bolt on a heat shield. OEM also does not have the springs holding it together

Sent from my SM-G920V using Tapatalk
---
07' Raptor 700- 11:1, hotcam 3, Pro design intake with K&N, +3 throttle body, Monster big bore duals, MSD with cuervo timing, JOGACA shocks, trail tech VAPOR, GYTR heel guards & bumper & nerfs, .250 aluminum skids, TM case saver, folding anodized levers and shifter, powermadd hand guards

04' raptor 660-Hot rods crank, .5mm overbore, 11:1 wiseco piston, Stage 1 hotcam, Yoshimura slip-on exhaust, K&N filter with outerwears, open lid airbox, Dynojet stage 2 jet kit
Agreed with above. That is a pro circuit header. Congrats you have a full system!
You can see the spring retainers/springs and the thick header flange where it meets the head, identical to yours.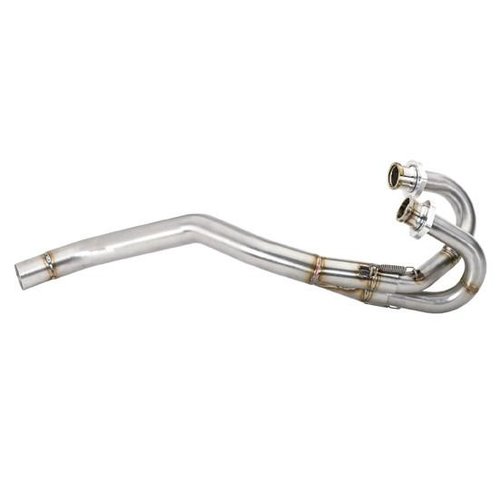 ---
06' 700 SE
-Fasst-
-Elka-
-GT Thunder-
-Alba-
-Lonestar-
-Streamline-
-PC5-
-Pro Design-
-HMF-
Junior Member
Join Date: Jun 2017
Posts: 18
Awesome thank you all, I appreciate it!

Sent from my KIW-L24 using Tapatalk