Senior Member
Join Date: Nov 2011
Location: Albany OR
Posts: 227
Niche 686 big bore kit. any good? anyone heard of them?
---
Has anyone heard of this company or used this kit? I was curious is its a pos or not. Input would be great!
Never heard of it, have a link?
---
Mike

Photobucket is trash now, use something else.
Senior Member
Join Date: Nov 2011
Location: Albany OR
Posts: 227
Never heard of them. Not a bad price on though.
Not bad price, but I'd want a higher compression, personally. As stated above, though, I'e never heard of the Niche 686 offering though.
---
'01 Raptor 660: 101mm 11:1 Wiseco, HCII, P&P, Curtis Sparks Exhaust, ProFlo w/ K&N, ACE Fabrication +2+1, JTM, G-Force Extended Axle, Holeshot HD, Holeshot XCR, Haulers, ProTaper SE Raptor Bend, ProTaper Pillow Top Grips, ASV Clutch Lever

'07 Raptor 700: 11.5:1 Tech, X4, Bo White +1 port, +3 TB, Curtis Sparks Exhaust (shortied), FCI w/o box, PC3, FullFlight +2+1, G-Force Extended Axle, Holeshot HD, Holeshot XCR, Haulers, Fasst Flexx, OURY Grips, ASV Shorties, Jogaca Suspension work
i got this same kit on ebay. the piston compression is stock, not 10:1 like advertised. the piston is a flat top just like stock. the good news is that this cylinder has the 700 sleeve in it making it stronger that a stock cylinder boared out to 102mm. with that said your cases are going to have to be machined for the larger od of the sleeve in the cylinder. i have been running this for about 2 years now and no problems yet.
---
2002 Yamaha Raptor 686
YZF 450 front shocks
Full Flight +2 +1 a-arms
Durablue extended axle
Curtis Sparks full exhaust
DG nerf bars / GYTR Heel guards
Ferra stainless valves
X4 cam
12:1 JE piston
hot rod connecting rod
Dynatek Programmable ignition
Yukon transmission gears
Willykiller oil mod
12/39 gearing
dynojet needle in 3rd position from top
25 piliot 2.5 turn out
160 mains
Hey Adam,
I'm guessing by your location that you ride in the Ganny?
Have you had any problems with the new sound laws with your Sparks exhaust? I just picked up a Sparks for my 700 and wanted to see if they are testing all the time for sound levels? I am going to pick up a quiet core just to be safe, but that only takes it down to 99 db.
Maybe we can meet up one weekend and hit the trails?
/ Thread Hi-jack
---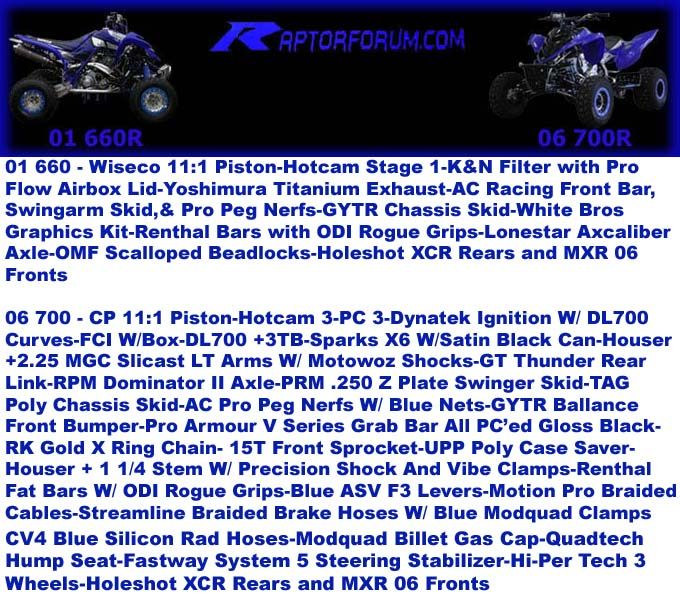 Senior Member
Join Date: Jun 2006
Location: Nebraska
Posts: 4,830
That looks like a stock oem yamaha cast piston to me.
---
2003 Limited Edition Raptor
Kenz 720cc 11:1 stroker, +1 valves, Mega Cycle X-4 Cam, Sparks 6x Big Core, Keihin 35mm FCR's. 158 mains, 52 pilots, fuel screws 2 turns out.

97 Banshee
F.A.S.T. Dune Ported 4mill, CPI Inframes, Keihin PWK33's, Direct Drive Lockup. 158 mians, CEL needles second clip, #48 pilots, air scews 2.0 turns out.
Junior Member
Join Date: Mar 2019
Posts: 1
I just got a 2001 Raptor 660 with the second gear out. So had dealership fix that and picked up a 686 ebay bore kit for $101. So they fixed gear and put kit in. Plus they said they had to rejet my carb three sizes larger for the bore kit. Raptor been running like a champ!!
Junior Member
Join Date: Apr 2019
Posts: 3
So are the big bore kits on ebay anygood? cracked my cylinder head and want to get one off of ebay