Excellent write up man. Very detailed
---
Joagaca suspension,gytr frame skid,yfz calipers,powermadd hand guards,prodesign shifter,fasst flexx bars,rox risers,t.m. design chain guide,+2 lonestar swinger,billet dash,x-rex rears, klaw xc fronts,ebay bumper,prodesign case saver,primary drive sprockets and chain, all balls wheel bearings,+2+1 lonestar a-arms,+2 g force axle,vitos jet kit,ac pro peg nerf,amradillo swinger skid,sparks exhaust,prodesign intake,foam filter,outterwear,no lid
Cool, glad you guys like it, usually im not too good at these things because I always forget to stop and take pics LOL... I just get too involved in working on it.


This install went great, Everything fired up perfect the first time but I do have to admit its nowhere near my 1st HID install LOL
---
07 Raptor 700 SEII: Monster Duals, CP 11:1 piston, Stage II Hot Cam, Trinity Intake w/ K&N filter, PCIII, Pro Armor Fat Peg Nerfs, Spider Grips, 15T front Sprocket, Kryptonbulbs.com 6000K HID kit
For anyone wanting to splice into the stock wiring harness you have three wires. Black, green and yellow. Black is your ground, yellow is your high beam and green is your low beams.
---
07 Raptor SE
Barkers
PC V
Pro design/ K&N
Flexx bars
Pro Armor skids
HID lights
Ride hard!! You only live once.......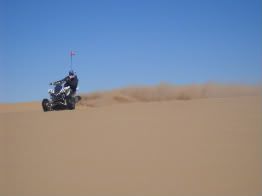 Quote:
Well I rewired the only two splice connections and it didnt make a difference. The ballast on that side sometimes makes a little sqeeling noise upon starting up. And sometimes it makes the noise and doesnt light up at all so I have to turn the switch off then back on and bling there it is haha! Not positive but it's either a bad ballast or low voltage I think. But if it was low voltage why doesnt the other one ever do it WTF!!! The vendor says he's not sure but he's sending me a new ballast just in case thats the problem.
Hey those ones on your bike look great man! Really bright hahaha!
Its the ballast,had a big go around with this already,Bought new balast and never an issue..Sometimes new ballast is faulty,prolly why the vendor is sending you a new one ..
Junior Member
Join Date: Mar 2011
Posts: 3
can someone tell me if they had any battery issues with this? i thought the stock lights were 30w nd the hids were 35? anyones battery go dead? also does anyone know what the arctic blue 8000k look like? my bikes blue i thought it may look nice in it please someone reply
I have not had any battery issues with mine.
---
07 Raptor 700 GYTR:Prodesign Intake w/foam, PCIII,Dynatek Programmable CDI,DMC DUALS,+3 TB,11:1 CP,HC3,TCS Race Series ZPS R/Shock,TCS Long Travel Triple Rate F/Shocks W/Rezzies,+2 Laeger Long travel A-Arms,GeForce Adj Rear Axle, Stainless Steel Front brakelines,Precision Stabilizer,ProTaper SE ATV High Bend bars,Hiper wheels,ITP Holeshot XCR f/tires,ITP Holeshot XC r/tires,Alba Nerf Bars,ProArmor GrabBar,Alba Bumper,ProDesign Kill Switch,QuadTech Desert Seat,trltech Voyager,DDM HID headlights
Junior Member
Join Date: Aug 2011
Posts: 6
Junior Member
Join Date: Aug 2011
Posts: 6
Wow thanks man
Junior Member
Join Date: Mar 2007
Posts: 28
---
07 Blue SE2<br />Barker Duals<br />Pro-Flow w/K&amp;N/Outerwear<br />PC III<br />Dynatek P/Ignition<br />15T<br />CCP Steering Stabilizer
Senior Member
Join Date: Jul 2010
Location: Central Pa
Posts: 521
used this guide for my 660...was easy. used the stock bulb retainers, was a tight squeeze but was able to use the stock screws then. used the wiring for the hi\lo switch and cut the stock plug so it plugs in nice and neat.
the lights are effing bright..cant wait to put my rings in and do some night riding
---
'02 660R
101mm Wiseco 11:1 Piston, Athena Gaskets, Hot Rods Crank Kit, Hot Cams Stage I Cam, Sparks X-6 Big Core, +2 A-Arms, Yfz450 front shocks and calipers, Black Renthal Fourtraxx bend bars, CST Ambush Tires, Black Blingstar Victory bumper, Black ASV Levers, Blacked out taillight, Custom Metallic Red/ Metallic Charcoal Paint by Me ohhh and pinstripes ---SEIZED! Now looking for a new engine to build...
"Keychain gives you 2 hp at least. Possibly 2.5 hp lol. Not as much as stickers..."