Well DW REALLY Bragged up the new renegade 100 XX C.
My dad has a 800 XX C and it was dead even with my 100% stock 700 until I hit 76. After the blue wire we where even but I had to ride it. IE red line take off with power shifting/idea tire pressure.
Well need less to say now it is a sloth compared to my modded 700.
So this new 1000 has a top speed of 87 (according to DW) I dont know under what conditions or if it cut out there
I don't think you will see many out there... The have a HIGH price tag! But the regular 1000 has the same power and weighs less!!
@82HP with a weight off 632LBS (dry) Now wet it would weigh about 665
Because 5.4 gallons of gas would weigh about 32LBS consider hes not full we will call his weight like 665LBS.
Lets add a 200LB rider on it 865LBS.
So 82/865 is 10.5! So it has a nice power to weight ratio!
Take a 700 raptor (stock 430 wet) then add your rider.
40/630 is 15.75...
Kind of sad for you guys/gals running stock bikes.
I myself am 130LBS
40/560 is 14...
So even with a light rider your going to get it handed to you.
I know that I was on a 800 Renegade and ran beside a blue wire mod 700 (he had HIGH tires pressure on pavement) We had a 4 mile stretch so we got em up to 70 and slowly kept giving it more. My speedo hit 80 and stayed there and very slowly he pulled away he was going (83 by his speedo)
He was walking me like 4.5 feet per second or so WHICH figures out to be about 3MPH faster.
Basic point. The 1000 is anywhere from 4 to 7 mph faster.
And the power to weigh is about 5 points lower on the 1000.
These things will kill us!
To be safe a 200LB rider will need good hook up and 63HP.
If your all about top speed a stock 700 could win with proper gearing. I would suggest 36 rear but to be safe a 15 front. If you have 22's your set but these will take off way fast!
If anyone has any experiences with one please let us know,
ALSO the 1000 looks a lot like a 800 to tell the difference check out the exhaust! (The 1000 has the pipe going side ways) The one in the snow is a 800.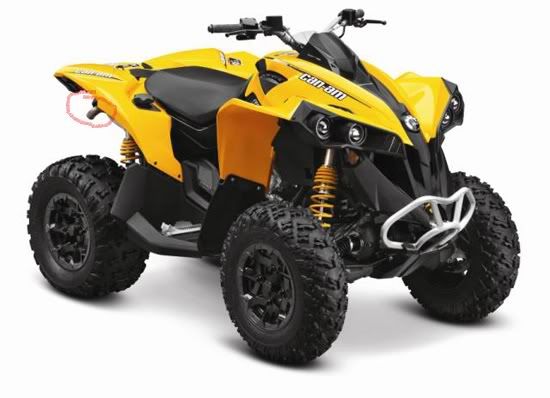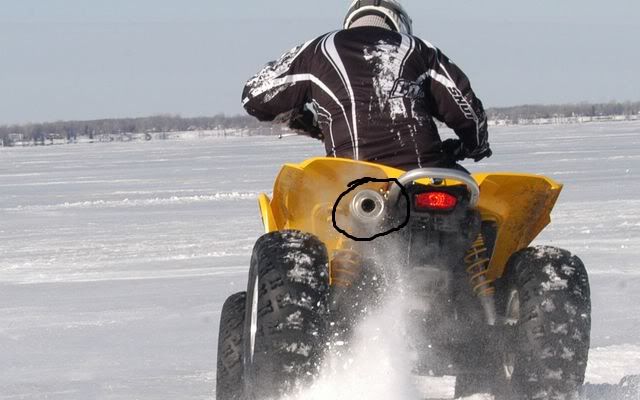 I COULD be riding with one soon and cant wait to show it why raptors are king, I plan on taking him with ease.
Raptor VS 1000 Renegade