I want to use this thread to document the build process for a pro level desert racing Raptor 700 with KMS's help. I have already done a write up on the custom 5+ gallon fuel tank that anyone can now buy in this thread:
http://www.raptorforum.com/forums/showthread.php?t=87086
Pro teams are pretty secretative about their combos, hp, top speed etc but I figure screw it, lets share info. I'll be out there racing regardless of what other people know or don't know.
The continuation of the build will be on KMS's facebook page here, you can "like" the page to get the updates.
http://www.facebook.com/kmsperformance
I was asked to join this desert racing team in 2009, when I joined we were starting off with a decent Raptor 700 that was owned by the team sponsor and raced at the 40+ B and C level. The team consisted of the quad owner/sponsor who was 40+ B, an expert/ex pro level rider, and myself. The 2008 Raptor 700 already had a desert seat, bumpers, skids and LSR +2 arms, +4 axle and PEP shocks. But it needed some work to be competitive in the BITD Expert division so I got to work by switching over to IMS nerfs, pegs and heel guards. The setup that was on there was too low to the ground and it scraped when flying over the whoops at my speed. I also added a +3 LSR stem and taller Flexx bars from Fasstco the stock bars are too low for me and they make fuel stops really hard.
We left the stock engine alone, it had a programmer and filter that is about it. We got 2nd in the first race, the Parker 250. At the next race (Silver State 300) the stock engine seized up while we were in the lead by 12 minutes. We rebuilt the engine in an attempt to be reliable and give more power. We went with a low compression 737cc with x4 cam and headwork. It only made 58rwhp though but it was enough to win the 2010 Vegas to Reno Expert class even though it wasn't pulling 5th gear very well during the race. We ended that season 2nd in the points after getting 2 flats on the final race and finishing poorly.
For 2011 we decided to try and build a custom fuel tank because our 2.9 gallon tank was killing us on mileage and slow fuel stops due to lack of a dry break system. We also ran out of fuel twice at vegas to reno and hard to resort to using the emergency fuel we had on board. So we had a custom 5.25 gallon fuel tank made with dry break, it is all explained in that other thread. It gave us a better range but we had fuel filter problems that was giving us issues.
Towards the end of 2011 we teamed up with KMS and Kelly whipped up a nice engine that he considers mild for the Henderson 250. It is still a low comp 737 but it has Kelly's magic done to the head, cam and tune. We also ditched the big custom single exhaust we had in favor of some DMC duals. We ended up with 71 rwhp and 52rwtq but not enough time to test. So we used the stock tank and ran out of fuel after only 44 miles, 1 mile from the pit.
Horsepower isn't an issue though, this race has a long asphalt section and according to my GPS we hit 101mph!! That is 14mph faster than our previous best and a good 8mph faster than any other quad I have heard of in desert racing.
For 2012 we are partnering up with KMS for the full pro season of Best in the Desert and Kelly will be providing an even better engine. He wants to prove that his 108mm builds can make big power and survive in the worst conditions. So far I am impressed, I have never seen another 70+ rwhp quad survive a desert race, that doesn't mean it hasn't happened but I just haven't heard of it.
We already ditched the aluminum mid frame and KMS had it redone with chrome moly tubing, it is much beefier and it shouldn't crack every race like the aluminum did. We need to strengthen the front section of frame too, it has cracked before where the shocks mount.
I will be wrapping the quad in my signature orange motiff and the shocks are on their way to PEP for revalve/respring because this thing is heavy. Assuming 5 gallons of fuel it comes in at 556 pounds without rider and 771 with rider all geared up!!
If the basic long travel suspension isn't sufficient we will be getting crazy and moving the suspension mounting points around and going with "stupid" long travel shocks and probably a no link rear swing arm.
So far this week we have been working on the following, it is tiring! Order new chain slider, build chain roller to keep chain on, order radiator shield, new seat cover, corner weight quad, remove shocks, build struts to hold up quad while shocks are gone, do speed runs to check gearing, teardown engine, work on fuel tank and new fuel system, order new a-arm to replace bent one, order new handguards, try to find graphics sponsor, order new chain and sprockets. Sleep.
I have more background and photos on my website
www.kendallrace.com
We are hoping to race the
2012 Baja 500
on this thing too, just need to save up some more money or get some cash sponsors to pay for hotels and diesel!
First race is coming up fast, Jan 7th in Parker for the 250. Not sure if the big boy engine will be ready for that one.
The continuation of the build will be on KMS's facebook page here, you can "like" the page to get the updates.
http://www.facebook.com/kmsperformance
The quad prior to the 2010 Vegas to Reno.
With custom fuel tank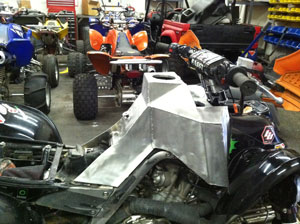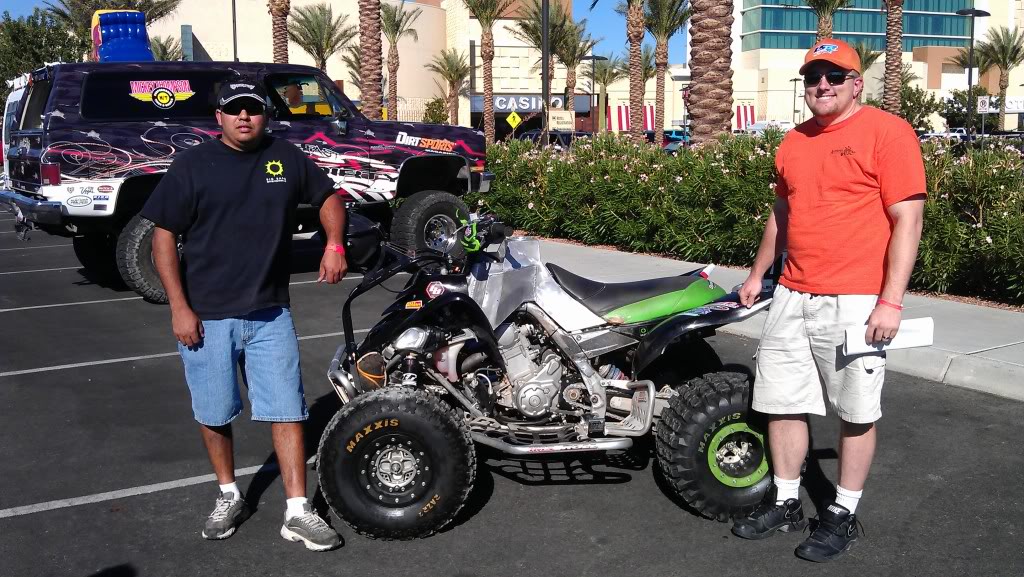 Henderson GPS