Discussion Starter
·
#1
·
So I got a new job and I am not a broke ass anymore but now I dont have time to work on my four wheeler. I'd rather be in my situation now im not bitching... So here is what I bought so far with more cash in my account burning a hole in my pocket.
Right Now I am debating on new wheels and tires first or head porting.... After the porting and TB work I plan on doing suspension then blowing it up to make it bigger.....(thats a joke but eventually it will be bigger....)
Its an alba exhaust I bought on here cheap, The ceramic paint was as much sa the pipe I think.... Was going for the dasa look i guess. Considering not even putting the HC3 in and porting with a web cam right off the bat, that was rec. by another member rather than porting with the HC3.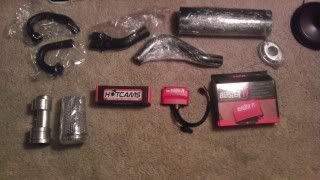 OK so here is the first two pics of a project 3-4 years in the making. It is my brothers 05 yfz450 with a 06 gsxr 1000 motor.