Figured I would start a build thread on my recently completed Raptor, been in the works for quite some time now and it's finally done for the time being.
But first, I have to give a HUGE thanks to the guys at D7 for the phone support and for building such an awesome product. I never would have made it through this build if it weren't for the D7 crew...Bob was always right there to help, and I can't thank him enough for it. I also want to say thanks to the guys on these forums who were always willing to answer my stupid questions and walk me through issues when they came up, I'm no mechanic...and the experience and knowledge you guys shared helped me greatly
Ok here it goes....
Started out as a 2007 GYTR edition, I picked it up for a great price in the spring of '08 as a new-leftover model:
After spending some time at the dunes, I caught the bug and had to mod it...nothing major at first, just a GYTR pipe and PCIII, along with a set of ITP Sandstars on ITP SS112's. I also had the hood and tank topper painted by one of the old forum sponsors (B&N designs).
Last year I was getting into the racing thing a little more at the dunes, so I took it a little further...still nothing crazy, but I added Barker duals, kept the PCIII, GYTR intake, +3 SLC ladder bar swingarm, and a Boss Noss Nitrous Kit, also dumped the Sandstars for a set of 22" 8 paddle haulers and smooth buffs on ITP Bajas and added an Alba pro-elite grab bar and renthal 15t front sprocket.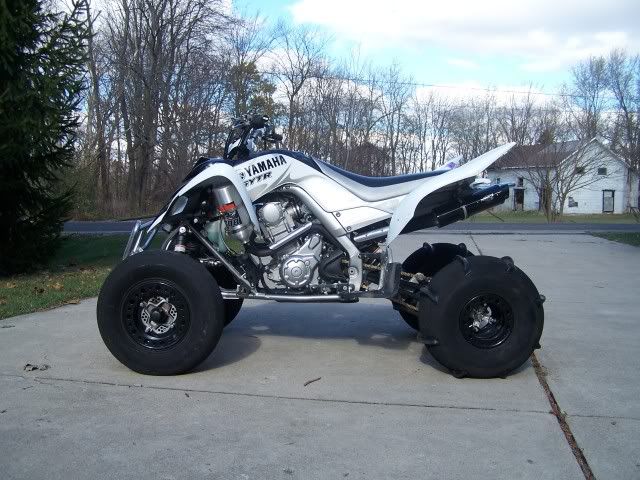 I had a blast with this setup, planned on keeping it this way and going with a little longer swingarm, but the mod bug got the best of me and I decided to go a bit further and started ordering parts.
Here is the list of parts that were added/modded:
-D7 Racing dual injector turbo kit
-+8 SLC Arched swingarm
-Direct Drive Lockout clutch with 10% heavier springs
-74 roll out 12-paddle extremes on drag-cut douglas wheels
-JJ&A 3-bolt hubs/wheels with their superlight 18.5" smooth buffs
-Marvin Shaw Hillshooter front and rear shocks
-Modquad play axle
-DID X-ring 520x124 link chain
-Galfer steel braided brake line
-Modquad billet parking brake block off
-Autometer boost gauge with custom mount
-TM Designs case saver
-shaved fenders
-removed the headlights, brackets, front bumper and shaved the mounts, got rid of the heel gaurds
-flipped the rear link to lower the rear end
And since I'm a pic whore, here are a bunch :lol: