Discussion Starter
·
#1
·
I bought this quad last year and have been chasing bugs ever since. Its got several issues. The biggest that i need to start with is, it breaks 520 chains. I think the motor placement is wrong. The center of the front sprocket is 8.5 inches in front and 3 inches higher than the pivot for the swing arm. THE motor is also angled about 10 degrees tilted forward. Some others have voiced concern about oil starvation going down steep hills. I know it would be optimal to have the engine further back and perfectly inline with the pivot for the swing arm but is there a tensioner system or fix without cutting up this frame and starting over?
Im very new to quads but build race cars and customs. Im not scared to dive into that part- I just want to make sure im headed in the right direction and not make more work than neccessary. Heres some shots of what im up against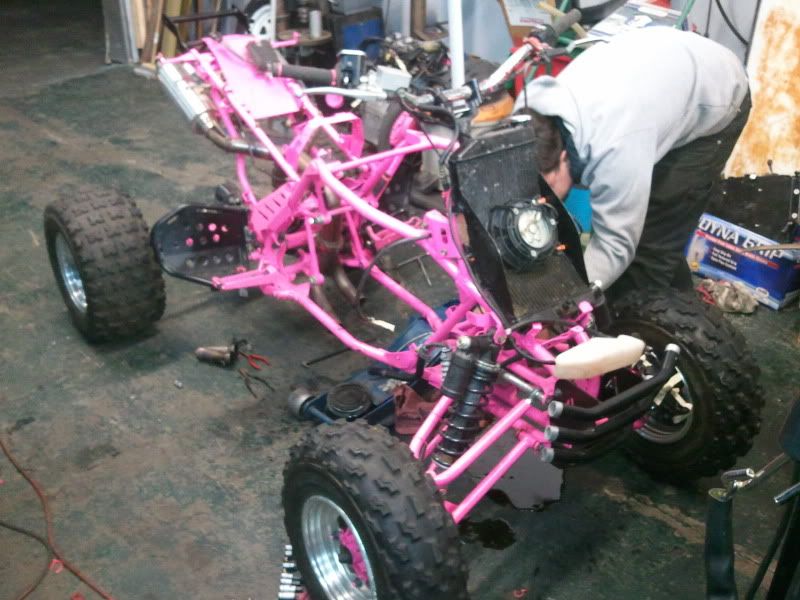 i got some bad advice and ordered a 71 tooth rear sprocket and 16 front and bought 530 chain. Of coarse nothing fits. The rear sprocket is way to big. Not only that but the rear sprocket hub is toasted. The axle splines have a bunch of play and the 450 hub is literally twisting the center.
So to recap- I need help with motor placement or a chain tensioner that will allow for enough travel to dune and not snap a chain or be so loose that it comes off.
also looking for advice on the engine angle. level it out or 10 degrees isnt the end of the world?