Discussion Starter
•
#1
•
the front shocks were letting the quad down really since most other things are aftermarket, and after the massive improvement swapping to yfz 450 calipers made i figured 450 shocks would be worthwhile. All of a sudden all the breaking yfz 450s in the uk disappeared somehow, and the few left were way too much for me (£250 for used front shocks).
So i tried looking for other 450 shocks and saw these, i dont think quadzillas/dinlis are popular or even sold in the states? but for those of us in europe they are pretty common for road legal quads.
They are close to the raptor 660 stock length, surprisingly to me they are actually a bit longer. with a thick washer on the bottom and a normal m10 washer on the top they fit perfect in the mounts.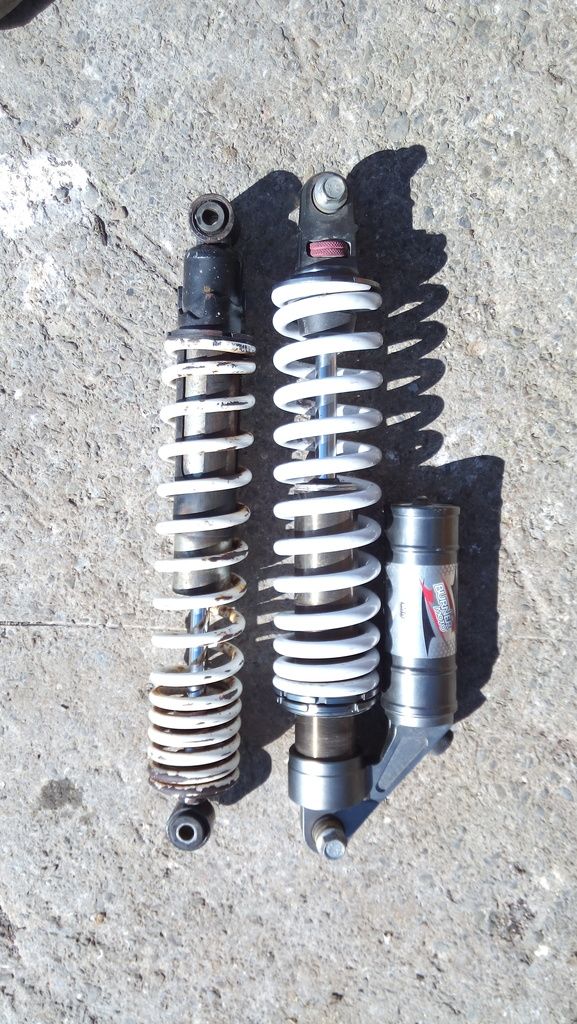 They seem very good quality, have compression/rebound adjustment (not that i have much idea to set it up!), good amount of preload adjustment, and this set seems relatively unused (bushings all tight and no rust)
here is stock and 450
final preload setting
With the preload set to be the same height off the ground as stock shocks, i lose about 1.5cm of travel in the shock (as in shock is loose by 1.5cm when no pressure on shock).
my chain broke so cant test them yet, will report back to say how they are.