I have been reading a lot of intake questions for the Raptor 700 on this forum lately so I figured I would put some time into analyzing and discussing most of the options out there all in one thread. Hopefully this is something that can get pinned to the top.
Lets start off with the billet adapter intakes that utilize the OEM box. All of these intakes will run the KN filter the pro design and GYTR are the only ones that will run a foam filter (unless you special ordered your own.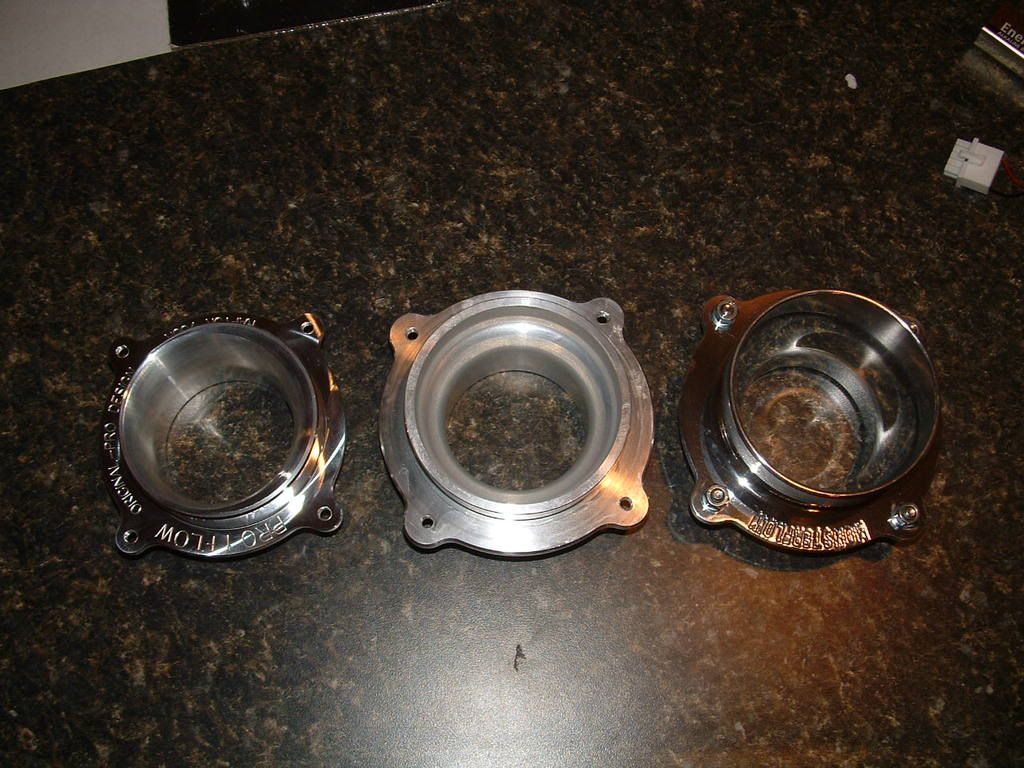 From left to right we have the Pro Design, Trinity, and Monster Flow
The pro design and GYTR are essentially the same unit when comparing adapter and filter size . They both come with a 3" Billet adapter ring, your choice of foam filter and wrap (pro design only) or KN Filter and outerwear.
The Trinity and Monster kits use a 3 1/2" billet adapter ring and a larger KN style filter. These kits also come with the outerwear.
Prices on billet adapter kits tend to run as follows
Pro Design with foam filter: $89.00
Pro Design with KN filter outerwear : $95.00
GYTR with foam filter: $90
GYTR with KN filter and outerwear: $125
With that being said it really does not make sense to purchase the GYTR brand when you can get more from the Pro Design brand for less money. If your looking for a foam filter there is no doubt that the Pro Design kits ARE YOUR BEST OPTION.
Now lets compare the Trinity and Monster intakes. As I said before both use a 3 1/2" billet adapter ring. That is about the only thing in common they now have. Trinity has started to use a cheap Knock-off brand of filter rather than the KN brand. Monster is still using the YA-3502 KN filter. Since they are both priced the same I HIGHLY recommend for you to purchase the Monster brand.
Prices on these 2 options are
Trinity paper filter kit with Outerwear: $140
Monster Flow KN Kit with outerwear: $140
Now we will move on to Drag style intakes and intakes that eliminate the box.
First for this section would be the LTE Airbox Eliminator Intake
Now I have no experience with this intake and no testing. All I can say is what I see in the pictures and it seems to have a very large filter, an aluminum intake tube, and outerwear. The only thing that worries me about this intake is the aluminum intake tube which in my mind would be prone to cracking. However if your a straight drag bike this may not be a concern.
Price:
LTE Drag style intake: $399.00
Next up is the FCI Intake. FCI has created an intake that gives you the option to run an aftermarket box or no box at all. The filter is very large and will not fit in your box. This is another kit that comes with an aftermarket intake tube, 8 ply paper filter, outerwear, and box if you choose. The FCI intake tube is made of a composite material that is very strong and guaranteed not to crack.
Price:
FCI Intake with no box: $234
FCI Intake with box: $289
Lastly would be Team Rocket Factories own personal intake that eliminates the airbox.
I dont have any pictures of this kit but I have been told it comes with a very big billet adapter and a huge filter for a very low price. Maybe someone can tune in with more info or pictures. I could not find any on their site.
Other intakes you may want to consider are the velocity which is found on ebay, CFM, and V2Products.
Now you may be asking what is the best option for you? I can tell you that we sell Monster and Trinity intakes with 75% of our big 3 kits. If you want a KN style filter and want to keep your stock airbox then these are what we highly recommend.
If you want a Foam Filter go with the Pro Design.
If you want a complete intake system that will give you the absolute most power with any future mods you may do my biased opinion is go with the FCI. FCI builds a quality intake that you cannot go wrong with.
If you want to keep your stock intake boot but want the biggest filter you can put and dont mind not having an airbox go with the TRF Intake. The price on this kit is very hard to beat and TRF has always been known to put out some quality parts.
Hopefully this helps a few of you out. Feel free to PM me if you have any questions.