Raptor 700R Displacement Chart
I know there may be a setup or two missing from this chart so please chime in if you know of another.
08/11/2010
Updated with all of the common sizes I could find. I know there are low production run and one-offs of other sizes out there, just can't get confirmation how many of these actually exist and are available for sale.
Always looking for more input.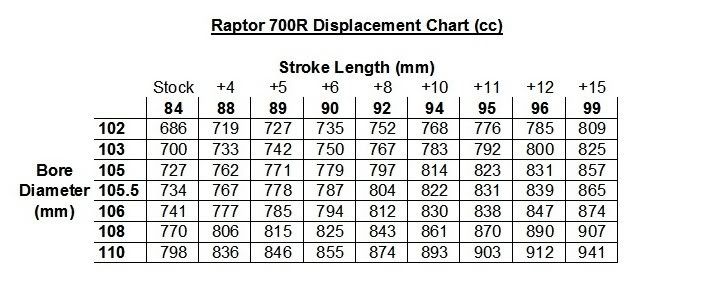 Looking to find the answer for a combination I missed? Check out this calculator:
http://nvmyz28.com/quads/displacement.html
And if you don't trust me or the calculator or just like to do things yourself you can always use this formula posted by White Rider below
The formula to figure out cc's is: bore x bore x stroke x .7854 x # of cylinders = displacement