·
Sand Slinger Extraordinaire
Discussion Starter
•
#1
•
I picked up a brand new 2008 Raptor 700 on Oct. 11th from a local dealer. On Oct. 19th, I road tripped to Venom Performance in Michigan to baseline this beast before it's metamorphosis. Here are the prelimary results...
I know there are most likely plenty of stock Raptor 700 dyno graphs on this site, but I thought I'd add some more in different configurations. This will also serve a couple of different purposes. 1.) It will show how this dyno compares to others that have dynoed stock 700's. And the biggie, it will be the same dyno that we'll be using after transforming this 700 from showroom stock to all out sand slinger over the course of the next couple of months!
First off, I'd like to thank John at Venom Performance for taking on this project! I'm sure with his know how, this thing will flat out haul the mail when we're finished! I'd also like to thank Kam at KBR for his contributions in getting this Raptor project off the ground! I'm really looking forward to seeing what we can do!! Although not all the particulars have been decided on, I do know we'll be incorporating a Venom Performance big bore 14.25:1 piston, Venom porting, Kibblewhite springs and + size valves, Hot Cams Stage II cam, Dynatek ignition, bored TB, etc. I'll update as things come together.
Anyhow, here's the preliminary runs. Enjoy, and stay tuned for updates on this build.
For easy graph clarification:
Green- showroom stock
Blue- Airbox lid off, exhaust peashooter still installed
Red- Airbox lid off, peashooter removed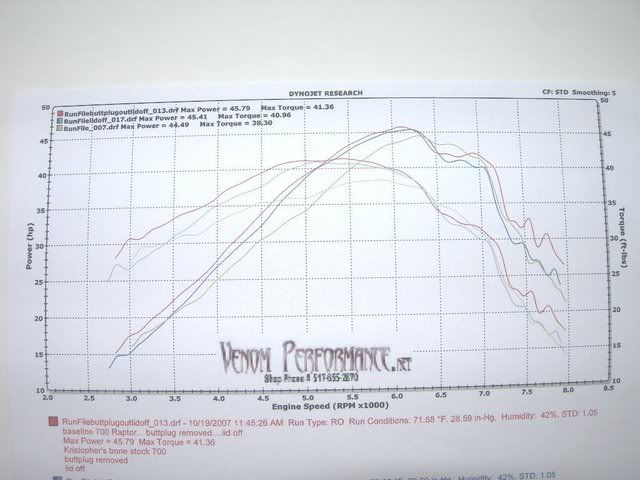 Later- Kris