·
RF Moderating Team Member / Wheelie Master
Voting for ROTM to take place from 15th through the end of the month.
Here are our Finalists for
ROTM
.
The winner wins a Lifetime Premium Membership from RAPTORFORUM.COM!!
If you did not make the Finalists list please try again next month.
Good luck guys !!!
lucky 69
Mods:
odi grip's with yellow ring's
rox riser's pro
pro armor revolition nerf bars
custom graphic kit
itp ss 112 wheels chrome
kenda klaws rear 20x11x10 ,kenda klaws front 21x7x10
carbon fiber warning labels
09 piggy back shocks
maier carbon fiber tank
dfr frame protector's
billet gas cap
gytr se bumper
raptor eyes headlight covers
dr d reverse kit
powermadd hand gaurds with billet arms
custom rear grab bar
billet key relocator
yellow shock covers
custom carbonfiber seat cover.
Foolio
Mods:
GYT-R Front Bumper
GYT-R Heel Guards
GYT-R Air Filter-Lid Off
GYT-R Adapter
K & N Oil Filter
Pro-AM Series Nerf Bars
Scott Grips
ITP Sand Star Rear Paddle Tires
Yamalube 20-50
H.I.D'S
POWER COMMANDER V
SPIDER/PALEFACE513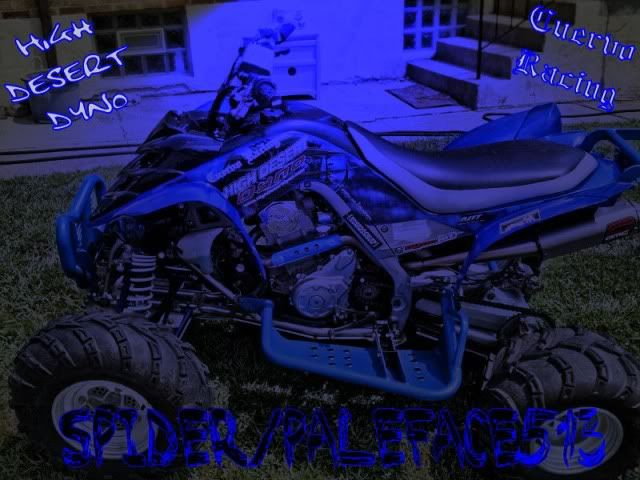 Mods:
07 700 based 778
WK54 mm TB and intake
13.5:1 compression
105.5 bore
+5 stroke
Programable dynatek HDD curves
DMC Force 4's
PRM skids
PRM bumpers/6 pack rack
HID kit
HDD clutch kit
15/36 gearing
ITP MUDLITE SP's
Alcexcaliber LSR
09 se rezi shocks
+4 stock swinger
DRD Reverse lever
Flast Flex bars
ODI Lock ons
Spider webbed grill guard
Spider web cam cover
AVS SHORTIES
Denso injector
HDD extreme +2 head
5050HDD cam
Custom trimmed plastics
JVR Key relocater
HDD graphics
​